Ceramic Wax Pro
A wax style paint sealant that creates unbelievable gloss and slickness all while making your car extremely easy to clean. We packed this thick Ceramic Resin formula with potent ingredients which harden to form a layer of protection on your vehicles paint surface. This non-stick coating protects your vehicle from the elements, oxidation and harmful UV rays while easily shedding water, snow and debris. Unlike normal waxes or sealants, Ceramic Wax PRO lasts a year or more per application, finally making long term protection easy and fun to achieve.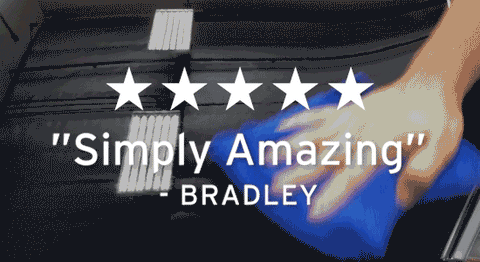 Less Washing, Less Worrying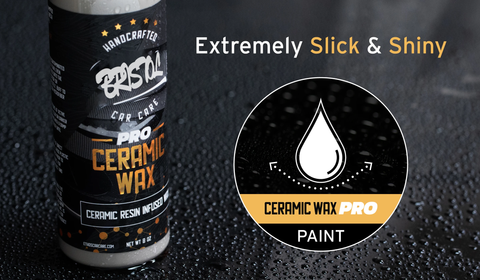 Ceramic Wax Pro protects your car in an ultra slick Teflon infused ceramic resin wax that causes contaminants and even water to slide right off. This ultra slick and shiny layer repels bird droppings, dirt, tree sap, road debris, water spots and even light abrasion. You should still wash your car but with Ceramic Wax Pro you won't need to stress over small amounts of debris on your paint!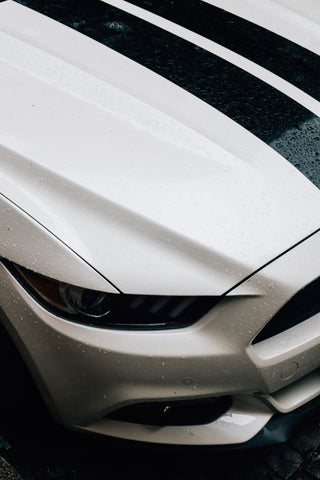 Save Time and Money
Ceramic Wax Pro eliminates the need for sealants, waxes, and polishes by giving your car everything it needs to be protected all in one bottle! Not only does it remove the need for multiple products but it can be applied to your paint, chrome, trim, wheels and headlights. Once applied it stays applied in our lab tests Ceramic Wax Pro protected our test car for up to 18 months, which means less time applying and more time enjoying your slick ride.
Ceramic Infused Protection
By utilizing a Ceramic Wax resin as the base compound we were able to infuse Ceramic Wax Pro with Teflon, a feature not available in "spray on" formulas. Teflon is the world's slickest material according to the Guinness Book of World Records, and is the only material a Gecko's foot can't stick to. What this translates to is an ultra slick layer that repels contaminants and water at a highly advanced level. Teflon is so advanced that NASA relies on it heavily to protect their space suits and shuttles!
A Little Goes A Long Way
We believe anyone should be able to get showroom quality shine and protection of a Ceramic Coating without the professional application cost. In this spirit we made a Ceramic Wax that can be applied by anyone with no special knowledge or tools required. Just wipe on Ceramic Wax Pro in a smooth thin even layer panel by panel. When you see the layer turn slightly hazy it's done curing just wipe clean and enjoy your beautifully slick and shiny surface!
FAQ
How long does this coating last?
Ceramic Wax PRO is packed with the best ceramic resins which have been tested and proven to last 12+ months when properly maintained. Proper maintenance consists of routine cleaning and rejuvenation with Ceramic Refresh or washing with our Ceramic Shampoo.
Can Ceramic Wax Pro be used on Boats/ Rvs/ Planes/ Trains/ Tanks/ etc?
Yes, if you can drive it, fly it or sail it, Ceramic Wax PRO can protect it! In fact, NASA, BOEING and Lockheed Martin all use our Ceramic Resins to withstand the harsh conditions in the Aerospace industry. Ceramic Resins protect against premature aging, weather and Oxidation and due to the slick, non-stick finish are used on planes to help prevent dangerous Ice accumulation. Thus, Ceramic Wax PRO is a great option to create a water repellant windshield to help with visibility during wet weather conditions.
What is the best Ceramic Wax?
Most Ceramic Waxes on the market contain very little if any Ceramic Resins. They dont live up to their claims! Ethos Ceramic Wax PRO is packed with over 14 different types of Resin, including the patented Teflon ® Resin, which due to its non-stick properties is known as the slickest material on earth. In addition, Ethos Ceramic Wax PRO was completely reformulated based upon the feedback we received from our customers that want a product that is easier and more durable than ever before. Not only is this the best car wax you will ever use but it is also the easiest wax you will ever use!
How is Ceramic Wax Pro different than regular car wax?
Regular wax contains organic materials and oils that break down and oxidize on your paint finish. Ceramic Wax PRO contains high quality ceramic resins that will not oxidize, discolor or wash away. This means that just ONE application lasts month after month with a shine that does not fade.
Does Ceramic Wax Pro remove scratches?
Yes, due to its unique ceramic chemistry. Ceramic Wax PRO bonds and fill micro-scratches and imperfections on the paint surface. This results in a silky smooth surface that emits an extremely high gloss effect. In addition, Ceramic Wax PRO is a great option for customers whom may have oxidized or faded clear coat that cannot be polished, as the coating layer adds a protective shield on top of the paint.
Does this work on "matte" or "satin" paint?
Ceramic Wax PRO was not designed to be used on satin or matte finishes. But it can be applied to any glossy finish including paint, plastics, glass, chrome, wheels, headlights and taillights.
What type of prep work is required?
You can apply directly to any surface after cleaning. For best results we recommend clay barring and polishing the surface to achieve optimal shine and bond.
What is the best way to apply?
Apply by hand with a foam or microfiber applicator, or with a Dual Action polisher. Its best to apply one section at a time until the vehicle is fully covered, then wipe away the residue.
How much Ceramic Wax do I need to use for my car?
One bottle will coat 2 average sized vehicles or one large pickup truck. We recommend two coats for optimal shine, slickness and durability.
What is the cure time?
Since this is a synthetic sealant, there is a cure time to achieve optimal results. Cure time does vary based upon temperature and humidity but on average you can expect the product to be fully cured and hardened within 48 hours.
Can I apply on top of other products/sealants? Or do I need to strip every product off?
Yes, you can apply this on top of other products or sealants without issue. BUT, we do recommend that any old waxes or sealants are removed prior to application to achieve FULL results with Ceramic Wax PRO. Similar to applying new paint on top of old, Ceramic Wax needs a clean and bare surface to bond and cure to, oil, wax or sealant residue can get in the way and prevent full bonding of the surface.
Can this be used on top of other ceramic coatings?
Yes this can be used on top of ANY BRAND of ceramic coating. In fact, many professional detailers will use Ceramic Wax PRO as a yearly or bi-yearly maintenance of their ceramic coatings because of its ability to fill in micro-scratches and imperfections that might accumulate in the coating overtime.
Is this a wax? Do I still need to use wax?
Ceramic Wax PRO really is the wax of the future! One application takes less time and effort than any wax before it and one application lasts month after month. Once applied there is no need to routinely wax your car as Ceramic Wax PRO will protect the surface for months!
Is Ceramic Wax PRO safe to use? Is it non-toxic? Is it eco-friendly?
Yes, Ceramic Wax PRO is completely safe to use and 100% non toxic. In addition, apply Ceramic Wax PRO onto your vehicle helps save water as washing takes less time, and there is less car washing needed when applied. All our packaging is 100% recyclable, when you are finished with your bottle simply recycle it so it can be reused into other consumable products.